Trends: When Do People Shop Online?
Mondays. Online shoppers love Mondays. The first day of the typical workweek produced more online retail sales from more shoppers who converted at a higher rate.
According to ecommerce trends taken from 25 mid market fashion and apparel retailers using the Workarea ecommerce platform, Mondays generated over 16% of weekly revenue on average. Revenue generated on Mondays is 10% higher than Sunday, the second best revenue generator.

Knowing which days of the week or even which hours of the day shoppers are likely to visit your online store and make a purchase may help you schedule marketing campaigns, staff up for increases in customer service requests and shipments, or otherwise, optimize your ecommerce operation.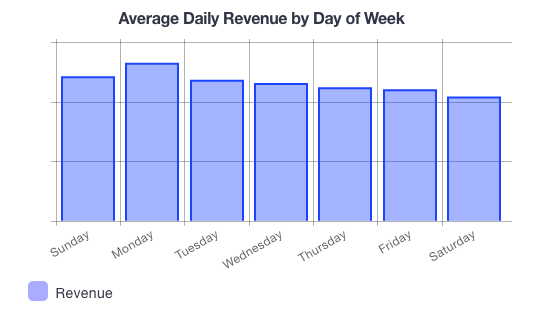 Consumers Shop More at the Beginning of the Week
Consumers tend to visit online stores more often at the start of a calendar week, specifically on Sundays and Mondays, according to data from the 25 online merchants surveyed.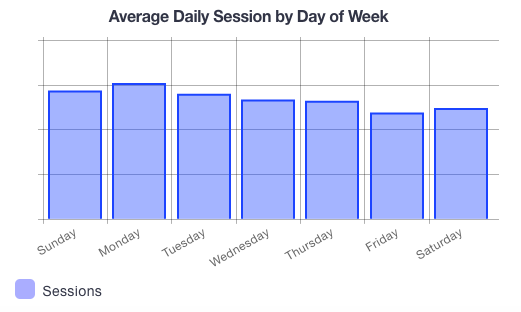 On average, Sundays and Mondays are the highest trafficked days respectively. Taken as a percentage of all weekly shopper sessions, Sundays received 14.81% of sessions and Mondays had over 15.33% of sessions.
Average session duration, which is the time individual shoppers spent on the sites surveyed, varied little. While revenue and traffic spikes early in the week, shoppers tend to spend the same amount of time on site.
As the week progressed, fewer shoppers visited on average. Tuesday had 14.59% of the total weekly shopper sessions, and Friday, which had the lowest number of average shopper sessions, accounted for some 13.31% of the week's sessions for the sample period.
The Weekend Impacts Ecommerce Growth
Consumer behavior is the likely driver. Fridays and Saturdays fall at the end of the workweek for many shoppers when they are focused on social activities, entertainment, and aspirational pursuits. By Sunday, it seems shoppers may become more task oriented, looking for items they need for the week.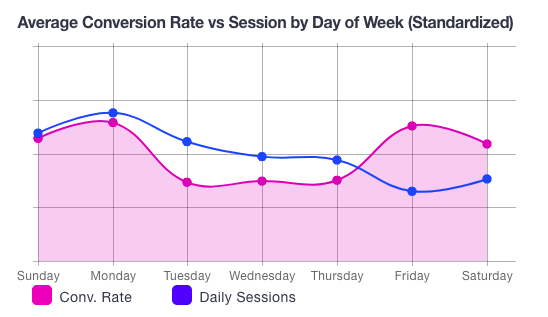 On Monday, consumers are back into their work routines and, perhaps, eager to check off items from their to-do lists, including shopping.
Two data points seem to support this theory.
First, a greater percentage of shoppers used desktop or laptop computers to visit online stores during the weekdays, while mobile devices tended to be more popular on weekends while shoppers are on the go.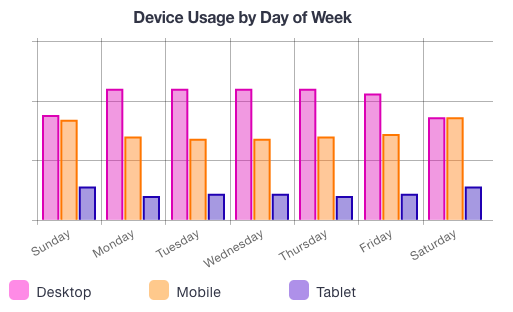 Average conversion rates on Friday and Saturday were also relatively high. Fewer shoppers visit on Fridays and Saturdays, but those who did visit an online store weren't just browsing and were more motivated to make a purchase. Remember, even though the conversion rates were relatively high, total revenue was somewhat lower because there were fewer total sessions.
This insight — that more shoppers may visit your store and make a purchase on Sunday or Monday — should impact your strategy when and how you market.
For example, it may make sense to increase daily pay-per-click (PPC) advertising budgets early in the week when more shoppers are searching for products. Or you might schedule on-site promotions — like sales, contests, or even a product introduction — to launch on those busiest days.
Online Shopping Prime-time Starts at 8:00 p.m.
Just like knowing that Mondays are great days for ecommerce should inform your marketing decisions, so too can understanding when consumers are most likely to shop during the day.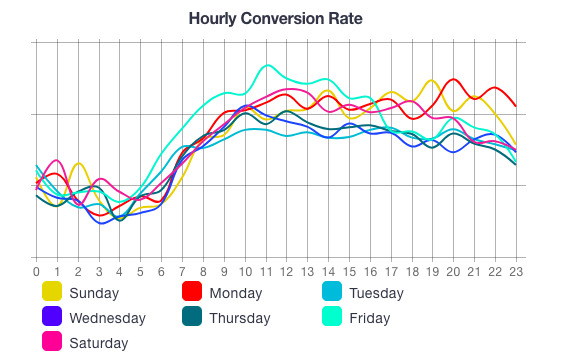 Average conversion rates for the 25 stores survey started to rise as early as 6:00 a.m., peaked at about noon, and leveled off until about 10:00 p.m. before falling again as most shoppers turn in for the night.
There were some variations by day, for example, Fridays' hourly conversion rates tended to climb more quickly before dropping off earlier at about 4:00 p.m., but generally, the conversion rate curve was similar throughout the week.
Hourly sessions followed the same general pattern. Average hourly sessions begin to rise at about 6:00 a.m. but peak later in the evening from 8:00 p.m. to 9:00 p.m.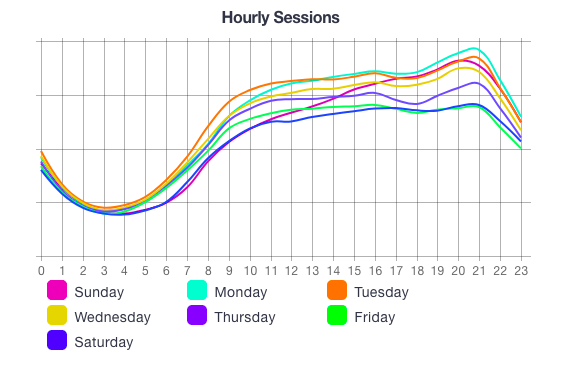 These hours are prime-time for ecommerce. The greatest number of consumers are shopping and average conversion rates are still relatively high.
The hourly data, of course, is related to each day of the week's own trends, so while the hourly session curve is essentially the same shape for Mondays and Saturdays, there is a difference in magnitude since Monday's will still get many more visitors.
Merchants using Workarea can leverage the platform's Site Planner tool to set up and run promotions that hit during this shopping sweet spot daily or on peak traffic days.
When Your Customers Shop Online
For the 25 online fashion ecommerce and apparel retailers we reviewed, Mondays were clearly the most popular shopping day of the week. The most popular shopping hours of the day were 8:00 p.m. and 9:00 p.m.
This data corresponds well with other reports and site data from Workarea customers in other industries such as cosmetics, home goods, holiday and seasonal, and sporting goods.
As far back as 2011, the New York Times quoted Mark Vadon, who has had founding roles in Blue Nile, Zulily, and Chewy, about Mondays.
"Monday is your strongest day and your weekends are your quietest time," Vadon explained.
--
This article originally appeared on weblinc.com and was updated on August 1st, 2017 based on new data.