In this post, we explore all things influencer marketing, from its surprising start to how ecommerce merchants are implementing influencer marketing campaigns today, and more importantly, how to calculate the ROI from your influencer community.
In a rush? No problem! Jump to the section that you're most interested in.


A Brief History of Influencer Marketing
How to Start Your Ecommerce Influencer Campaign
Ecommerce Influencer Marketing Strategies
Calculating the ROI of Influencer Marketing
A Brief History of Influencer Marketing

Believe it or not, one of the first influencers dates back to the 1920s, is well-known, and celebrated today. Can you guess who it is?
It is Santa Claus, and (spoiler alert) while they didn't invent the legend of Santa, Coca-Cola advertising amplified the character we know today. Shortly after, other brands, like Kellogg's copied the magic formula when they cooked up Tony the Tiger.
The second-wave of influencer marketing hit hard in the eighties and nineties with big-name celebrities endorsing even bigger brands -- who could forget the Cindy Crawford and Pepsi commercial?


Today, the influencer industry is both amplified and morphed with the adoption of social media; where everyone has some form of influence. The differentiator being the sheer volume of people the influencer can reach at any given time.
What is Influencer Marketing?

To answer this question we turn to Wikipedia -
"Influencer marketing (a.k.a. influence marketing) is a form of social media marketing involving endorsements and product placement from influencers, people and organizations who have a purported expert level of knowledge or social influence in their field."
Want to know who the biggest Instagram influencers are? Here are some names to familiarize yourself with. No judgment if you were just as clueless.
Daily Dose, a digital marketing agency pushing motivational content
Huda Kattan, the world's most influential beauty expert
Cameron Dallar, a YouTube and Vine sensation turned Instagram influencer with 20 million followers
How to Start Your Ecommerce Influencer Campaign

You get it. A big audience equals a big reach for your product or service. But how does one influence the influencer?
Let's look at how to start your ecommerce influencer campaign.
Define Success
To find the right influencer you have to start by defining a successful influencer campaign. Is it mentions? Total new followers? Use of a discount code? If you are unsure about which objectives to select, check out this infographic from Mavrck on the 12 most popular influencer marketing objectives.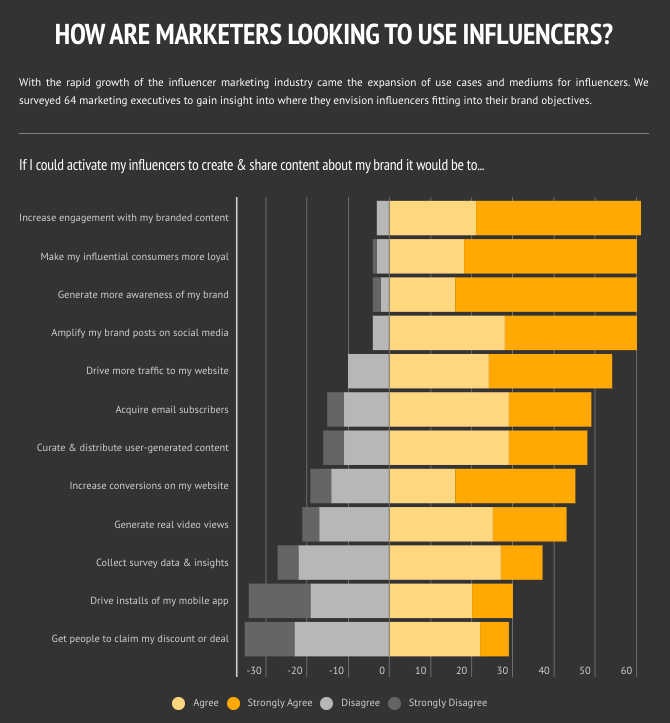 Pick a Platform
Now that you've defined your marketing objectives, it's time to pick a platform best suited for your ecommerce brand. Depending on how you want the influencer to market your product will dictate which social platform(s) you will use.
Are you asking influencers to review or interact with the product? This sounds like a YouTube or Facebook campaign. Or, would you prefer they take photos wearing or using your product? Try Instagram.
Identify Influencers
To identify who would be a good influencer for your ecommerce brand, you need to get clear about who you are ultimately marketing to. Who is the target audience, what do you know about them already, and what else can you find out? Do your research upfront to understand as much about them as possible.
After you've established your target audience, it's time to go influencer hunting. There are several tools on the market, like this one from BuzzSumo, to help you discover and validate if someone would be a good influencer for your brand. Some other similar (and FREE) platforms include TrendSpottr and Followerwonk.
Ecommerce Influencer Marketing Strategies

We recently met with Workarea customers to dive into influencer marketing in a post-COVID world. We wanted to know what people are doing present-day to engage with their influencer community.
Here are the key takeaways from this virtual meeting of the minds.
Discount Codes
Offering discount codes to influencers is arguably one of the easiest ways to launch your influencer campaign. However, as you grow and scale the program, keeping track of discount codes can become anything but simple.
One Workarea customer shared insights into their robust affiliate program that manages multiple discount codes for various influencers and publishers. Using Workarea's Discount Engine, the retailer can easily manage, track, and control any number of discount codes.
For reference, Workarea's Discount engine supports complex logic such as Segment-Based Discounts, Order Total Discounts, Item Level Discounts, Shipping Discounts, Buy Some Get Some Free, Gift Quantity, and Fixed Price Discounts.
Workarea's Discount Engine in action
Influencer Content
With people being forced to stay home, many music retailers are seeing an uptick in orders and searches for people attempting to learn (or re-learn) how to play a musical instrument.
Check out this Google Trends report on the Worldwide search for the keyword "learn guitar" over the past 12 months. Note, the biggest search increase was in early April when many stay-at-home orders, particularly in the US, were put into place.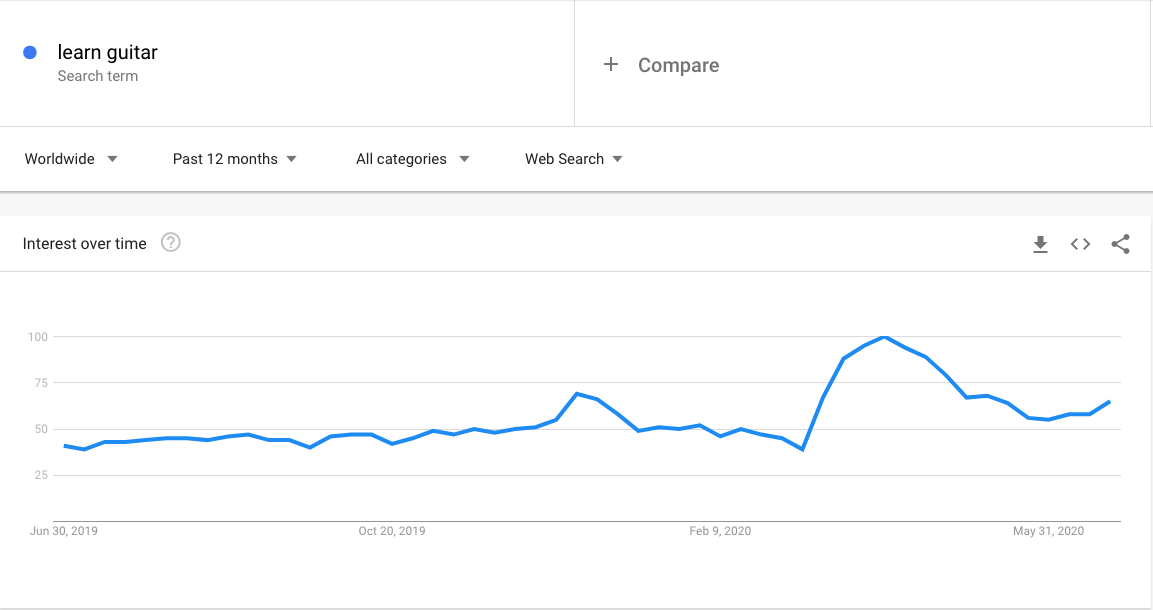 What does this mean for influencer marketing? One Workarea customer in the music retail industry leverages YouTube to showcase influencers using the products they sell. They've even taken older content from in-store clinics and events, like live performances, interviews, and even musicians in their car, and repurposed it as influencer content.
Influencer SWAG boxes
In the wake of COVID and not being able to congregate in large groups or at in-store events, one Workarea pet supply retailer is engaging the influencer directly by them sending product boxes.
Sending your top products, new products, or curated products is a great way to literally get your goods in the hands of the influencer community. This, paired with a specific social media hashtag would provide insights into who your top influencers are. For additional information on how to track influencer campaigns, be sure to check out the Calculating Influencer ROI section.
Micro VS Macro Influencers
Unlike macro-influencers, micro-influencers are individuals that have between 1,000 to 1,000,000 followers/audience members and are considered experts in their respective niche. These individuals or organizations can engage with their followers on a deeper and more meaningful level.
This follower base seems to be the sweet spot when it comes to active engagement. Influencers with 1,000 followers generated 85% higher engagement than ones with 10,000 followers. And, as the number of followers went up, the engagement levels declined.
The takeaway is that in some instances, large followings aren't as effective as authentic voices with organic, smaller audiences.
Calculating the ROI of Influencer Marketing
To answer how to calculate influencer marketing ROI, we reached out to our friends over at Curalate, a leading technology company connecting the dots between social and commerce.
As we touched on above, there are several metrics to calculate influencer ROI. Curalate points our these top used metrics:
Engagement
Traffic
Impressions
Clicks
Revenue
Earned Media Value (EMV)
"EMV is essentially the buzz created around your brand, which can include comments, mentions, and user-generated content. It's often calculated by multiplying the reach of social content by a multiplier based on impressions. EMV is useful in measuring influencer marketing ROI because it provides a single numeric value to a variety of individual metrics."
Curalate warns that if not set up properly, tracking attribution will be a challenge. For example, if multiple influencers are using the same hashtag, it will be difficult to identify which influencer is generating the most buzz or traffic to your website.
One solution to attribution is having the influencer self-report. Ask the influencer to provide screenshots of analytics or direct access to confirm the data is accurate. Depending on the number of influencers you enlist, this could get cumbersome over longer periods.
The biggest takeaway from the experts of influencer marketing is to select and set up the right tools to track metrics ahead of time. These include unique URLs and hashtags, affiliate links, and coupon codes. Once you calculate the metric of choice, divide this by the total investment, and multiply by 100 to determine the influencer ROI.