Brands With a Heart and a Purpose: Spell & The Gypsy Unicorn Tears
If you subscribe to the Australian modern-bohemian fashion brand, the Spell & The Gypsy, then you already know about the nearly $1 million dollars the company has donated to the bushfire relief effort.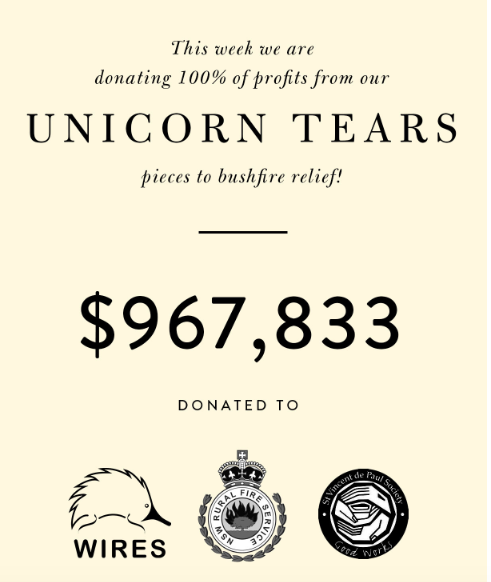 What you might have missed was the fact that 100% of profits from the Unicorn Tears campaign was collected, donated, and split between St. Vincent de Paul Society, Wires, Wildlife Victoria, NSW RFS, VIC CFA and SA CFS.
"These fires have prompted our industry to more deeply reflect on and understand the reality of climate change," said Elizabeth Abegg, co-founder and chief brand officer at Byron Bay boho brand Spell. "It is time for change in all businesses, particularly fashion."
Through their social media networks, Spell quickly launched a campaign where community members could vote on their favorite prints and styles from past collections. After tallying up the votes, buyers could pre-order select merchandise. All proceeds benefit the bushfire relief.
Courtesy of Spell Instagram

This isn't the first time Spell has worn their heart on their sleeve. Altruism is engrained in the company's DNA. This is reflected beautifully on their Giving Back initiative where they feature a number of local and global organizations that they support. Among these organizations are the Women's Earth Alliance, Future Dreamers, a local Byron Bay not-for-profit girls mentoring organization, and The Climate Council.

To learn more about Spell's mission to give back, visit their Giving Back Initiative.
All photos courtesy of Spell & The Gypsy