A Step-by-Step Guide to Ecommerce Holiday Planning: From Set-up to Post-Holiday
As a retailer, you know all too well that preparing for the Holiday season is a year-round effort. From revisiting data from the previous year to predicting how you think your customers will shop, there's an art and a science that goes into ecommerce holiday planning.
In this step-by-step guide on setting up your 2018 ecommerce holiday plan, we provide you with an in-depth view into each step of the process. From analyzing past and historical trends, to optimizing your upcoming and real-time holiday campaigns and the best practices to extend sales into January, it's all here and ready for you to run with!

How to Prepare for the Upcoming Holiday Season
One of the best ways to determine how to best merchandise your products for upcoming holiday season is to take a deep dive into a variety of data points from last year. Arm yourself with the knowledge to grow this year by collecting and analyzing holiday data to identify key product, merchandising and selling trends.
2017 Online Holiday Shopping Trends Infographic
To get a (turkey) leg up on the competition, it's important not only to look at past internal data, but understand the important industry trends from the previous year. In this 2017 Holiday Online Shopping Review Infographic, the Workarea Customer Success Team provides a high-level overview of the top shopping trends that dominated the 2017 holiday season.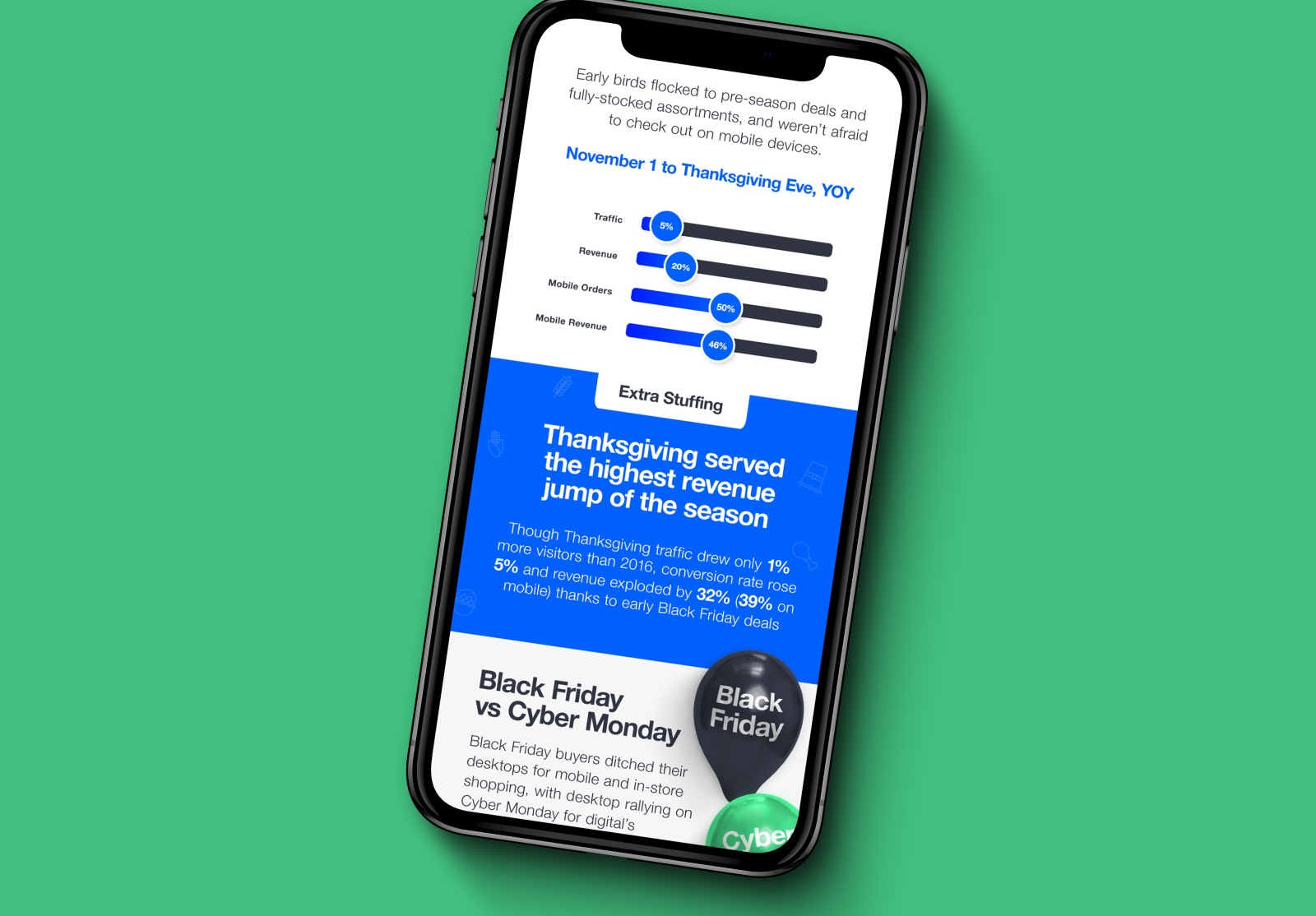 2017 Ecommerce Marketing Trends
From a marketing perspective, allocate resources towards growing your user base before the start of the season. It is much easier to jump-start holiday sales when you have a ripe audience within an arm's reach as opposed customer lists with individuals who have had little to no interaction with your brand.

Here are some critical marketing actions to implement before the start of the Holiday season.

| | |
| --- | --- |
| Grow Your Email List | Increase Social Media Followers |
| Start Marketing Early | Find Out What Actually Works |

Fore more juicy information, download the 2017 Ecommerce Holiday Guide


Planning Tips for 2018 Ecommerce Growth
According to the National Retail Federation, 30% of annual retail sales comes from revenue generated between Thanksgiving and Christmas. While examining historical data and trends is critical in the ecommerce planning process, so is forecasting imminent changes in consumer behaviors.
In the 2018 Ecommerce Holiday Planning Guide for Optimal Growth, we examine both past and future trends that are sure to impact retailers this year. Some noteworthy facts mentioned in the guide include:
In 2017, $138 billion was spent online during the holiday week alone. That is an 11.5% increase compared to 2016. Continued evidence that online shopping continues to grow in popularity during the busy holiday months.
The highest conversion rates on both desktop and mobile were on Cyber Tuesday, topping Cyber Monday by 13%. How did you Cyber Tuesday compared to Monday?
Smartphones accounted for nearly 60% of traffic and nearly 50% of revenue on Thanksgiving and Christmas. Retailers must have a rock solid plan in place for mobile optimizations.
When it comes down to it, messaging, timing and preparedness are the three biggest assets when having a make or break holiday season. Set aside the necessary time to research consumer trends relevant to your industry and compare that to past successes and observations. Doing so will help to provide clarity in what can easily become a stressful situation.

Ecommerce Holiday Planning Checklist
To help you fuel your best holiday season yet, use the following checklist to make sure you've dotted your i's and crossed and crossed your t's when it comes to planning for ecommerce holiday growth. Note, each of these items are covered in greater detail 2018 Holiday Planning Guide.
• Mobile

Optimizations

• Tax Updates & Awareness
• Promote Product Review
• On-Site Search Optimizations

• Increase Social Engagement

• Email Marketing Optimizations

• Shipping Strategies & Optimizations

• Search Engine Optimizations
• Site Speed Optimizations
• Sell, Drink Coffee, Repeat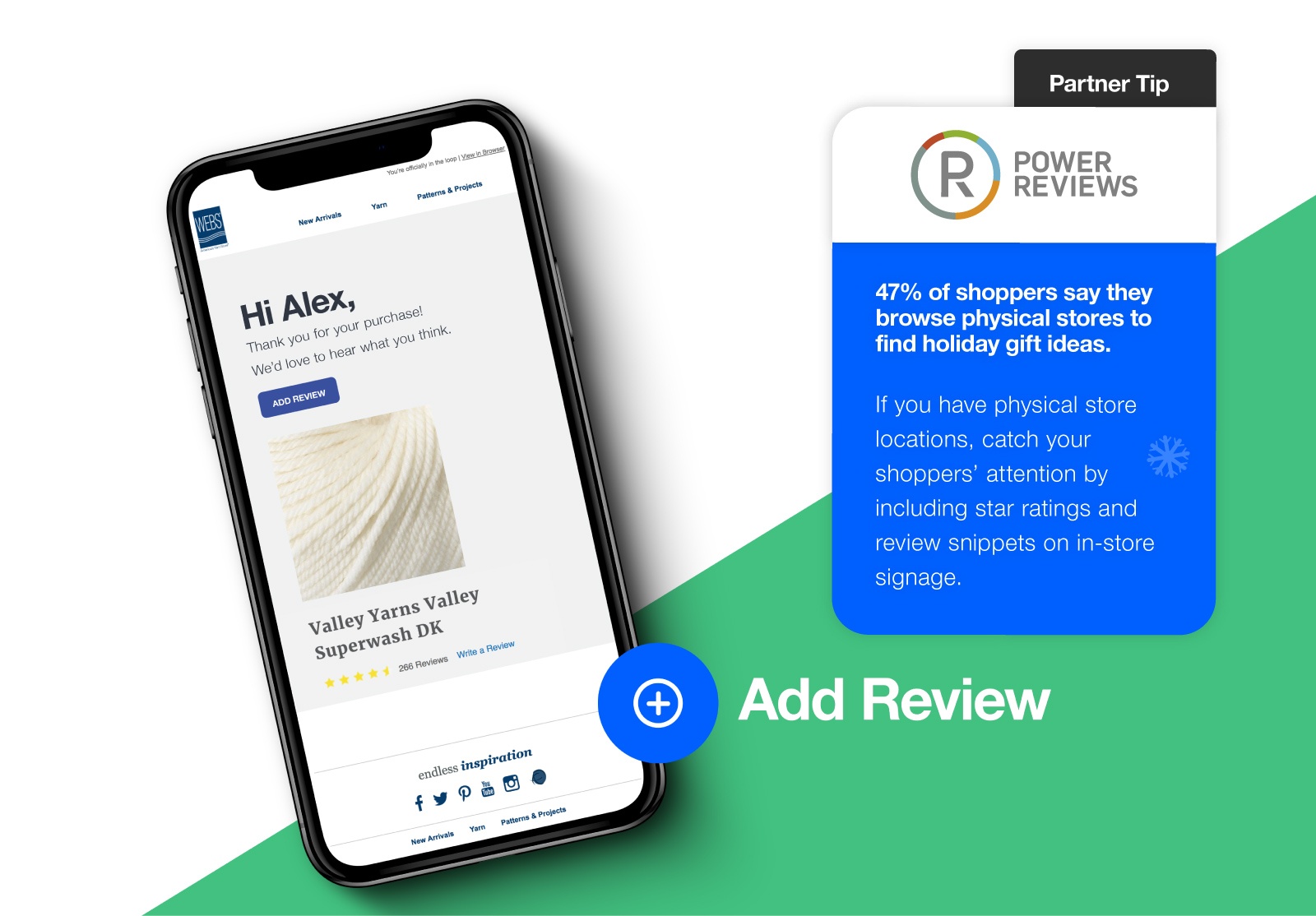 Real-Time Merchandising Strategies During Peak Selling
Once the Holiday season is underway, it's important to understand what exactly to monitor to maximize online sales throughout the entirety of the season. From conversion rates, to revenue and how to avoid sitting on cold merchandise post-season, your digital team needs real-time data to set the appropriate merchandising strategies. These promotional strategies should be translated across home pages, category lists, site search product pages, cart and marketing campaigns.
In this pre-recorded webinar, we share expert holiday merchandising strategies to drive double-digital conversion rates; including how to:
Help customer find more of what they want
Make buying decisions easier for consumers
Turn over seasonal merchandise more profitably
Respond to competitors' moves with greater agility

Post Holiday Selling Strategies
Last, just because the clock strikes twelves and marks the start of the new year, doesn't mean your work isn't over. Post-holiday slumps and returns are a harsh reality for retailers. One idea to keep sales strong post-holiday is to take this opportunity to build lasting relationships with your newly acquired customers.
For additional ideas, use the tips below to keep sales going well after the holidays are over.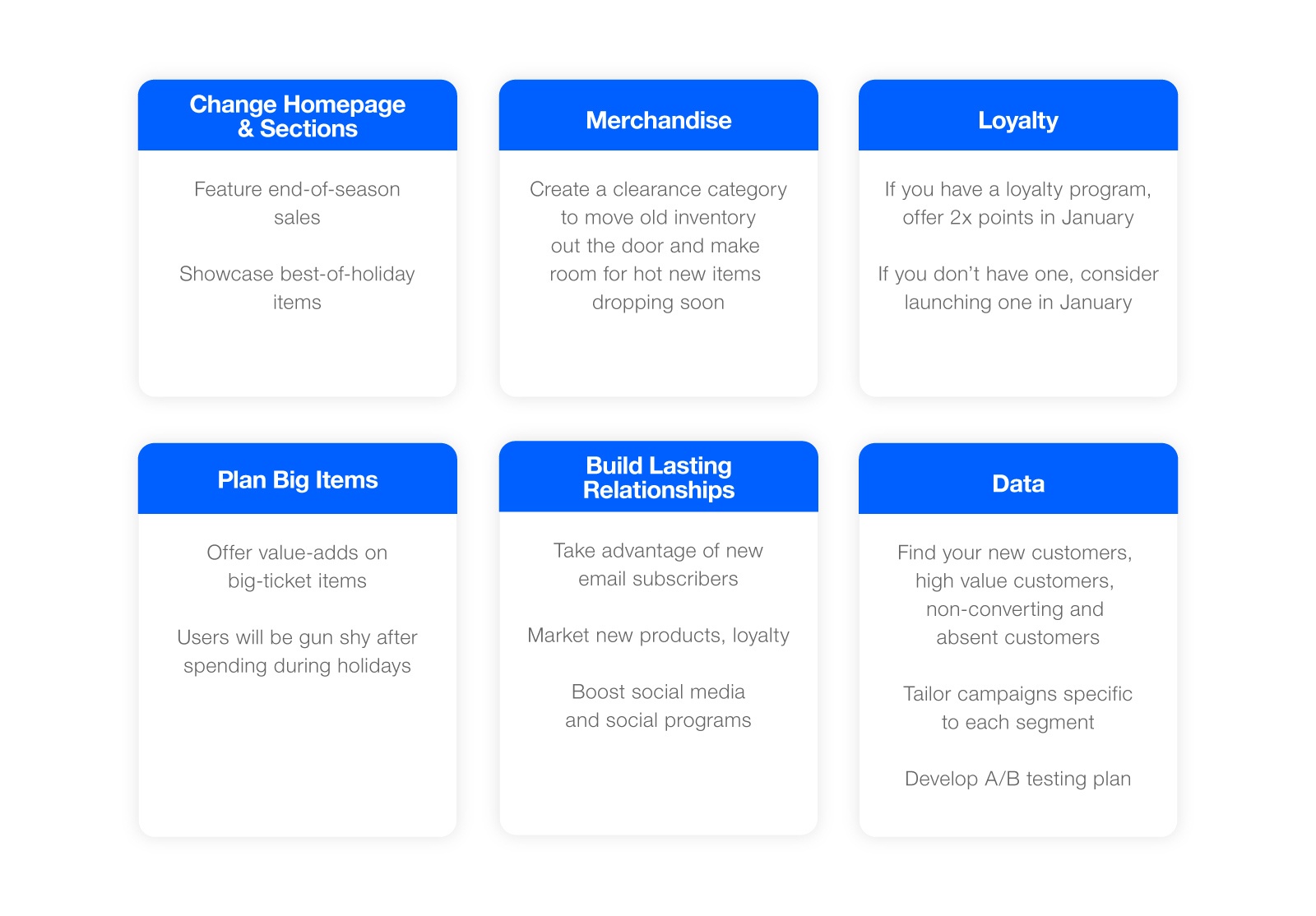 Remember, the ecommerce holiday season is a marathon and not a sprint. Create a game place that's both realistic and challenging for your organizational or departmental goals and team size. Create a system for consistent checks and balances to keep you sales and marketing efforts agile. Stay in communication with your team and your customer and most importantly, breathe!