Commerce Party Podcast: Workarea, Self-Learning Insights & Commerce Innovations
Ain't no party like a Commerce Party. Tune into this edition of the Commerce Party podcast featuring Workarea's very own Bill Tarbell as he dishes on self-learning merchant insights and the retail experiences driving commerce innovation.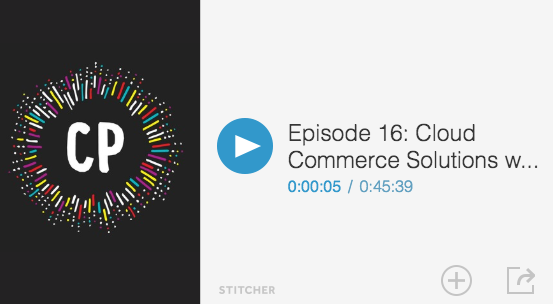 The first Commerce Party podcast of the year features the VP of Marketing for Workarea, Bill Tarbell. With more ecommerce experience that he cares to admit, this former Director of Innovation at Ebay shares the Workarea story as well as the innovations that are challenging traditional ecommerce standards. Listen to the full podcast here, or read a few questions and answers from the podcast below.
CP: Lets talk about Workarea as product. Tell us about it.
BT: Workarea as a product has four main tenants. It has robust ecommerce functionality from cart to checkout, to catalogue, to promotions, and pricing. From day one, content management was incredibly important to us. The ability to manage content including assets, navigation, and pages is all native within the platform. Built-in site search is embedded (using ElasticSearch) to take it beyond the search bar. Search runs across the entire platform. The fourth pillar is merchant insights. The platform collects data from customers and users, processes it, and feeds it back as business insights. Users can make data-driven decisions in a number of areas like trending products, search terms that are converting low, and content pages with high conversions. The admin system is designed around user productivity. Insights are embedded inline with the work the user is doing (called inline insights). When making decisions around what products to use, the user can refer to sparklines and small notations that nudge them in the right direction when curating content.
CP: Are you collecting information across all merchants on Workarea or is it merchant-specific? And, is it self-learning?
BT: Insights are specific to each merchant and are very detailed to their customers. In terms of self-learning or AI, in some cases, you can argue that we are already there. Content blocks, which are part of the CMS, can be driven by the insights engine. For example, it can identify trending products and automate the presentation of the that content on the front-end.
CP: Who is the target market for Workarea and what's the hook for those customers?
BT: We have merchants doing upwards of $200 million and even those doing as low as $10 million in online revenue. In terms of a perfect Workarea merchant, it has to be a business that values technology and is serious about innovating commerce at the experience level.
Think of it as two dimensions a merchant can use to differentiate itself. One is the emotional connection. The ability for a brand to differentiate with brand stories and content. And the second is the experience or the service they provide. Is it quicker? Are they doing something unique?
If you think about those two elements, we fit where merchants really care about one or both of those things. We have a lot of merchants using the Workarea CMS to put out daily content to drive interaction and repeat behavior. The flexibility of the technology supports merchants who want to test out new ideas. Built on Ruby on Rails, MongoDB (a no SQL database), and ElasticSearch, we provide the business a SaaS commerce solution, but for those that want to control the technology, we enable that as well within our merchant-dedicated auto-scaling cloud.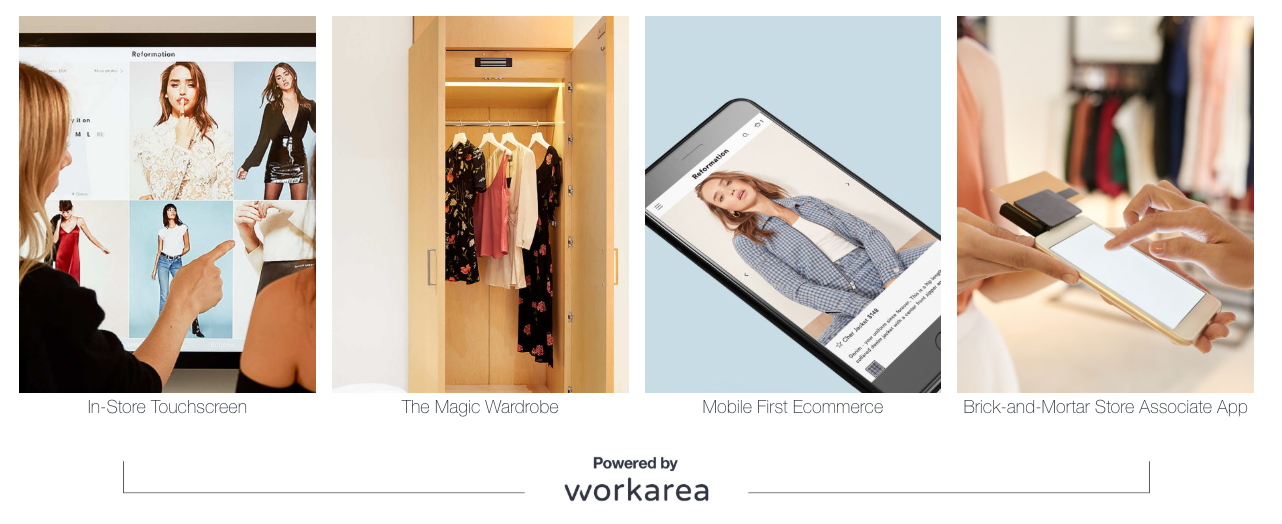 Another fantastic customer use case is a women's sustainable fast-fashion apparel manufacturer, the Reformation. Their technology team was trained to use Workarea and rolled out brick-and-mortar stores powered on the Workarea API. Armed with consumer touch screens, Reformation has reimagined what a retail experience is from a consumer and store associate experience. When we talk about headless and architectural decisions, this is exactly where Workarea makes sense.
CP: What is the timeline of Workarea as a full commerce product?
BT: In February 2017, Workarea was unveiled. At the time we were moving from a combined software and implementation agency towards a singularly focused software company.
This past summer represented the first chapter we pivoted towards becoming a software company. One of our great partners BVAccel had a small Workarea practice. They went on to acquire the agency piece which removed any perceived conflicts from the other partners that were trained and going to market with Workarea. We have a growing and great list of experienced solutions implementations that support our customers and do builds.
Through a lot of discussions and research, we then made the decision to grow a community and add value by releasing the Workarea Commerce platform to GitHub. We believe we can grow the community from inside out.